Event summary
Armagh Teachers Centre, Armagh, Armagh
MCA in partnership with Autism Services, Southern Health and Social Care Trust is offering a 14-week training programme to parents/carers/guardians of young children (aged 2-7) diagnosed with autism. The Incredible Years Autism programme will be delivered by an experienced Incredible Years practitioner and a member of the MCA Training Team.
14 weeks starting Thursday 7th March 2019 ending 20th June (Easter break 25th April and 2nd May)
The aim of the Incredible Years Autism programme is to facilitate parents support and promote their child's development in communication, language, play, friendship and self-regulation.
It is through sharing activities that opportunities arise for the young autistic child to learn and to practice skills such as following a parent's agenda, giving attention, reciprocity, transitioning and making a choice. Parents will be coached on how to use music including songs and rhymes, physical games, puppets, sensory play and pretend play to promote their autistic child's development.
Through the use of play and sensory based activities, parents will be supported to model joint attention, reciprocity, empathy and to manage sensory input to avoid overstimulation. Parents will be reminded of the need to use visual support strategies to support the development these skills.
Parents will be supported to incorporate these play-based activities into their child's daily routines as a means of supporting transitions and promoting positive behaviour at stressful times in an autistic child's day e.g. morning, mealtimes and bedtime.
It is recognised that emotional literacy is a precursor to self-regulation. The Incredible Years Autism programme aims to coach parents promote positive behaviour and relationships as they support their autistic child develop skills and strategies for responding to their emotions and working towards self-regulation.
It is hoped that by participating in this 14-week Incredible Years autism programme, parents will develop a parent support network.
Location
Armagh Teachers Centre
Markethill Road
Armagh
Armagh
BT60 1NR
Get Directions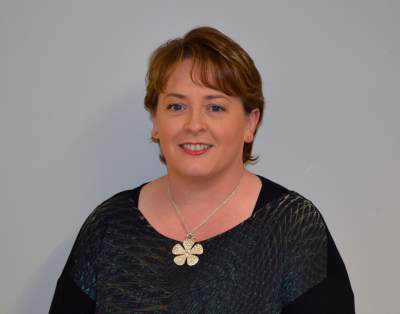 Majella Nugent
Majella Nugent is an Autism Trainer/Advisor in Middletown Centre for Autism. Majella has experience teaching and supporting children and young people with autism in schools. Majella's experiences include Pre-school, Mainstream Primary and Post-Primary and Special Schools across Ireland. Majella also has experience teaching autistic students in Further Education. She has lectured and assessed modules on the Early Childhood Foundation Degree and the Level Three Autism qualification, as professional development for parents and professionals. Majella's training specialism is Relationship and Sexuality Education, Transitions and Special Education Needs. Majella has contributed to the development of the curriculum as a Professional Associate with CCEA for learners with MLD and co-ordinated specialist trainings including Transition to Higher Education (Ulster University and Trinity College Dublin), 16+ Education and Employment, and Sibling trainings. Majella is an Associate Lecturer on the Post Graduate Certificate with Mary Immaculate College Limerick.
Event summary
Armagh Teachers Centre , Armagh , Armagh