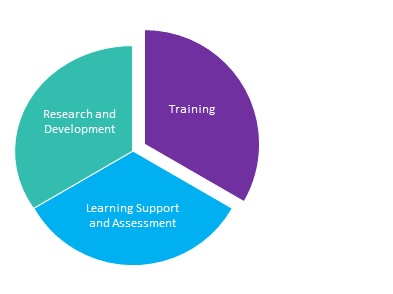 Middletown Centre provides a comprehensive annual calendar of training for parents and Education professionals in locations throughout Ireland and Northern Ireland, including at Middletown Centre. In the past the Centre has hosted Dr Wenn Lawson, Dr Brenda Smith Myles, Dr Glenys Jones, Professor Rita Jordan, Ros Blackburn, Adam Harris and many other prominent professionals in the area of autism.
Joint Inspection Reports 2012 and 2016 identified all areas of the centres work as outstanding.
Training is delivered by the Centre's staff as well as by national and international experts. Sessions are delivered over half day, full day, multi-day and online. The Centre also provides a Graduate Certificate in Autism Studies in partnership with Mary Immaculate College and the University of Limerick (2017 intake now full). Please check the Centre's training calendar for further information on all training and the Centre's five-week training packages.
The Centre also provides whole school training on a commissioned basis and in partnership with regional Education Authority in Northern Ireland and the Special Educational Support Service in Ireland. Commissioned training application forms are available by emailing training@middletownautism.com
The Centre has provided almost 100, 000 training places to parents and professionals all over Ireland and Northern Ireland since 2007.
MCA and HSE Joint Project
Middletown Centre for Autism (MCA) and the HSE Social Care Division have embarked on a project to facilitate Children's Disability Network Teams and primary care staff in accessing MCA training programmes. The project is also limited in that parents and education professionals have priority in accessing places but 10% of places can be guaranteed to HSE staff members under a number of conditions.
How Primary Care Team and Children's Disability Network can apply:
Staff members from the HSE can follow the following guidelines to apply for a place.
The applicant can apply for a training place online at www.middletownautism.com, when initially registering on the site the applicant will chose Professional when asked for role, they then must select that they are a member of the HSE primary care team/children's disability network (this will only need to be done once as it will form part of their profile), this will generate a form each time they apply for a training, this form is then given for each training to their line manager to be signed and forwarded to Middletown Centre for Autism either by email or post.
Once the signed form is received the applicant will receive an email either confirming their place or advising that they have been placed on the waiting list depending on numbers.